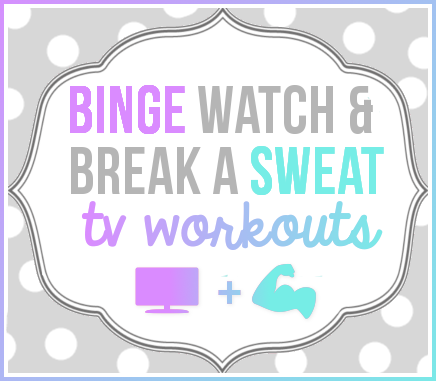 So here is the first post in my Binge Watch & Break A Sweat series, yay! Nothing makes me feel lazier than partaking in a Netflix binge. After watching the third episode of Gossip Girl in a row one day, I decided to create a TV workout for the show with a piece of notebook paper and a marker. My roommate and I tested it and it kicked our asses. I then realized–what if we did this for every show we watched? It's the perfect way to workout without having to go to the gym or sacrifice time spent watching your favorite shows.
Now you can binge watch your favorite shows and get a kick ass workout in! No more feeling guilty about lying in bed watching your shows all day. Nope–now you're going to partake in a TV workout challenge and form a hyper-awareness to just how often certain things occur in your favorite shows. Like, have you noticed how many times people drink during the average Gossip Girl episode? Oh, you will notice during the workout and you will curse it.
So, ladies and gents, here are some Paige (and her roommate) tested and approved free printable TV workouts based on your favorite shows. Get ready to binge watch and break a sweat!

The Gossip Girl TV Workout Challenge


Love yourself some good old fashioned drama? Me, too. This show is incredibly addictive and with this workout you'll be able to watch a few episodes and stay active. Has anyone else noticed how often Lily tries to be a good mom to Serena and Eric and totally fails?
Initially we lunged every time Nate was on screen but then could not walk the next day because he is on the screen way more than anticipated. I temporarily hated Nate for this reason. It has since been changed to his flannel wearing, he wears flannel a lot more than you think. He also looks really great in it. Regardless of what Nate's wearing, this TV workout is sure to kick your butt.

[Click on the Image to Download the Printable .PDF]
The Friends TV Workout Challenge


I grew up watching this sitcom. Whenever I got home from school, this show seemed to be on and it was my mom's favorite. I've seen every episode at least three times and now that it's on Netflix, anyone can watch this amazing series to their heart's desire.

[Click on the Image to Download the Printable .PDF]
Next time you watch, get ready to plank to the theme song instead of clapping along to it. Feel the burn!
TV workouts are such a fun way to workout and I definitely want to make more of these! Let me know if you try them and what you thought!
Which TV shows do you want me to create a workout for next?