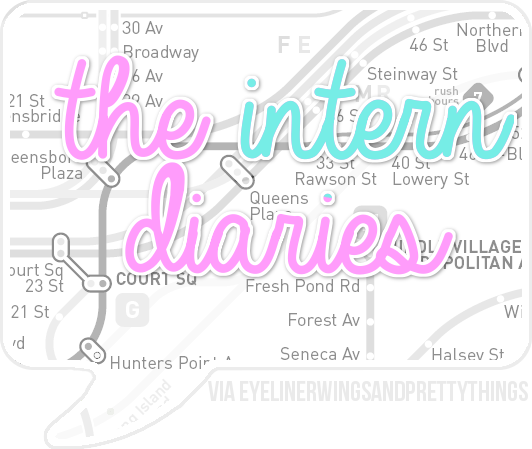 Okay, first of all you're probably wondering "What makes this chick qualified to tell me how to find an internship?" Good question. Although I probably don't have any credentials that qualify me to give such advice, I have already had two internships and I'm only just becoming a Sophomore in college. Plus, they've both been internships relevant to my dream career that are also portfolio-building. I also found both on my own without any help of my college. (Honestly, college career centers don't seem to be too helpful when it comes to getting internships. At least not to me.)
So, I'm not your career advisor or guidance counselor or whatever the hell you call those intern-finding people but I can totally help you find internships with these tips. They'll probably help you at least a tiny bit.

1. Be Google-smart.
Any doofus with a computer can Google "internships in ny" or "summer internships 2015". A smart doofus will Google better than that.
1A. Ignore the years.
First of all, don't only Google the current year. My current internship was found from an ad posted looking for summer interns for 2014. I e-mailed and asked about this summer and BOOM. Internship. Don't worry about the years on things—obviously an ad from 2011 might be outdated, but it doesn't hurt to contact the company and ask if they're still needing interns. Truthfully, you probably won't always be so lucky but this is a great way to find some internships.
1B. Think about the career you want.
Google different key words along with the phrase internship. Want to work in fashion? Make sure you don't only google "fashion internships nyc". Try a ton of phrases. "fashion marketing internships", "internships fashion industry" "style blog internships" "fashion styling internships" "fashion week internships". Just Google a million things and if your dream job is say, being a fashion designer, don't only look for internships for designers. Try looking for internships with style blogs, boutiques, or maybe little-known design companies. Don't be too picky—just because you apply doesn't mean you will get it or have to take it.
1C. Google locations.
Any online internship is great for those who live far away from many locations or don't wish to commute. Make sure you specify "online" when Googling your heart out. If you're near NYC, put "New York" or "NYC" or "Manhattan" in your searches. Same for anywhere you are. Don't limit yourself, again, if you live in Connecticut but are willing to commute to New York, don't only Google "Connecticut fashion internships". Google any place you are willing to go. It's super annoying when you find the perfect internship and realize it's 6,000 miles away.
2. Contact Companies You Love.
Even if you can't find anything about internships, it does not hurt to ask.  Find e-mails or phone numbers on websites. Tell them a little bit about yourself and how you love the company and then ask if they have any internship spots available. You can send your resume along with this e-mail, but I recommend waiting to see if you even get a response—some companies don't want a conventional resume or they will have other requests. This works best for smaller companies or start-ups. You have a better chance of getting an e-mail from a local boutique than you do from Lilly Pulitzer.
3. Apply for at least 12 things.
Seriously. For the summer, I contacted probably 15 different websites/companies and asked about internships and I applied for 4. Only one answered me (luckily the one I wanted the most!). A lot of times you won't even get a response but don't let it discourage you. The more you apply for the better chance you have of getting at least one offer.
4. Start looking early.
I literally applied for each of my internships extremely far in advance. If you want a summer internship, start looking and applying in March. This process is quite time-consuming and you do not want to miss any deadlines.You also want to allow time for follow-up interviews or phone calls.
5. Look at the requirements!
If the internship is only for college credit and you know you can not or will not do the internship through your college or pay for credits or whatever, you will probably waste your time by applying. Ever since the whole Conde Nast lawsuit for students involving college credits, most places have been weary about having interns without college credits. There are many internships without college credits, but the ones that state college credit ONLY probably mean it.
6. Back-up plans are essential.
Okay, so, while applying for summer internships (or whatever season), you need a back-up plan. Say you get none of the internships—what will you do now? While applying for internships, I also applied for a few jobs. My back-up plan was working at Zumiez, had I not received my internship offer, I would have been earning cash and gaining experience in retail. Obviously Zumiez would not have looked as relevant or cool on my resume as an internship with an editorial website where I write and do social media, but it is something. Plus, money would've been awesome. Even if your back-up plan is not a job, plan to do something. Start a YouTube channel, maybe create an Etsy shop where you sell your bracelets. Just do something.
7. Know your worth.
My internships were both unpaid, BUT, I ultimately gained a lot of free publicity (my name is on all of my posts and I can link to my personal blog and other social media accounts), things for my resume and a ton of opportunities to write and expand my portfolio. Finding paid internships is a bit more difficult (in my opinion) but most internships have perks. My current internship is unpaid BUT I get free lunch every day I'm in the office (that's like $15 a day) and the occasional free nail polish or iced tea. I also have a lot of independence and freedom to write. On the other hand, if your internship would potentially just getting coffee and doing grunt work and you are not getting any compensation, you might want to try applying for different ones. Essentially, know if you want to be paid or not.
8. Tweet, tweet, tweet.
Okay, it does not hurt to tweet the Teen Vogue fashion editor or owner of your favorite cupcake shop if they have any opportunities to intern or work for them. Most of these people don't have too many followers and you can often get an answer. Even if it's a no, you are still expressing interest. This could also potentially help you find out about some internships you might not have found on Google.
So those are my tips for helping you to find you dream internship! Once you land it, be sure to check out my tips for commuting to an internship in NYC (or any major city)!
Do you have any internship searching tips?